So let's get started…
Hope everyone is doing well and keeping healthy. Starting to see a few lights at the end of the tunnel and I'm getting my vaccine today! YES! That means I'll be back on track for conventions this year.
Just so happens that next month, I'll be at:


May 7th – 9th! I had such a great time at the show in 2019 and Minneapolis is a great town. Can't wait to see you again!
Other shows currently booked:
Wizard World Chicago, August 26-29
The Bizarre Bazaar, September 25th
Fingers are crossed for C2E2 and Emerald City Comic Con.
Spectress & Sabanion, Issue #3
Is in the final stages of coloring and lettering. Can't wait to get this out to you on Kickstarter! Now that I think about it, the launch will probably be LIVE when I'm at AniMinneapolis and I might just have to work out a deal for people at the show that back the Kickstarter. I really can't wait to have a table at a show again, meeting Kickstarter backers will be a bigger bonus!
Here's page 1, which shows the binding of the Witanemetowa (Evil Owl Spirit) on the grounds where CONFAC-4 would be built centuries later. More gorgeous art here by Topper Helmers and colors by Wesley Wong. I love how Topper worked the CONFAC-4 Moon Crew symbol into the scene: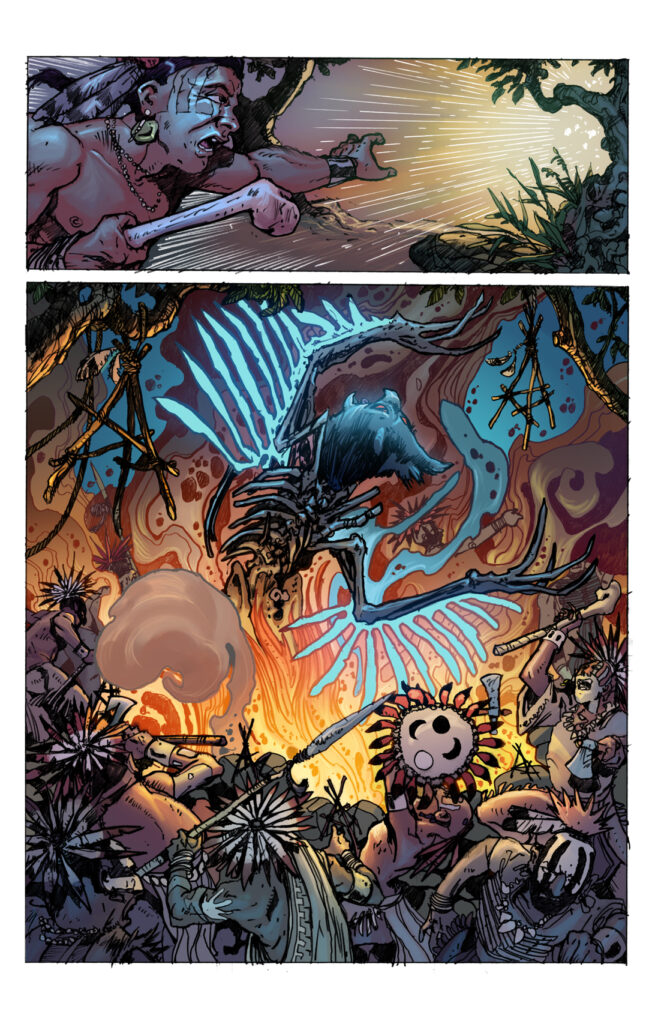 Spectress & Sabanion, Issue #4
The script is currently with my editor. It's most likely going to to through some revisions but… that doesn't stop Topper, LOL! He's already cranked away at the first few pages and I'm definitely not disappointed:
Ruxy Vampire
The script is about 20% complete. This is going to be a story separate from Spectress & Sabanion but still part of what I'm calling the "Sandsverse" (Spectress & Sabanion…. S&S… SandS… you get it). I'm tweaking the vampire myths because everyone knows them and they're a bit cliche' and boring…. and also becausesimple just isn't me. Ruxandra will be a member of a unique strain of vampire called the Cel Rau. The Tepes family is the only strain of the Cel Rau and Ruxandra was born one in a set of triplets. Traditional vampires hate the Cel Rau because of their unique abilities and powers. It's going to be intense, crazy and sexy. I think you'll enjoy it.