Spectress & Sabanion – Issue #1
$4.99
32 interior color pages.  Spectress begins her plan.
This issue is currently being launched on Kickstarter with a cool NEW alternate cover.  You can get your copy HERE!
Description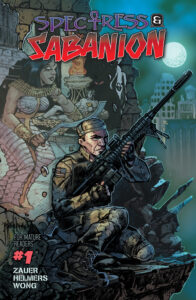 32 interior color pages. Includes slipcover.
On the outskirts of Chicago, Containment Facility-4 (CONFAC-4) masquerades as Grenning Industrial Park and confines evils long forgotten. The scarred and grizzled members of the Moon Crew keep watch in the deepest vaults on the nights of the full moon. Tonight, the full moon shines but something in the air doesn't feel right. A ghost from the ancient past has come to free one of the most destructive denizens of CONFAC-4: the demon, Sabanion. Aneksi, an ancient Egyptian ghost and once chief vizier to Cleopatra, is determined to find purpose in the world of the living. Bound by fate, Aneksi is forced to free Sabanion from the sub-vaults of CONFAC-4. Can Aneksi's push back into the realm of the living survive such a ruinous presence? Or can she manipulate the dark secret that binds them to her advantage?
Art by Topper Helmers, Colors by Wesley Wong, Letters by Wes Locher
Written/Created by Kurt Zauer
Additional information
| | |
| --- | --- |
| Weight | 3.8 oz |
| Dimensions | 10.5 × 6.75 × .25 in |
Only logged in customers who have purchased this product may leave a review.